Profile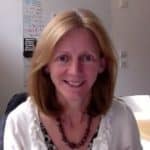 Lynne Cox
My CV
Education

King's High School, Warwick and Cambridge University

Qualifications

MA (Hons) Natural Sciences; PhD

Work History

Cambridge, Dundee, Oxford

Current Job

University Lecturer in Biochemistry and Tutorial Fellow in Biochemistry

Employer

University of Oxford and Oriel College, Oxford
My Work:

My lab works on understanding the molecular basis of ageing.

Read more

We use a range of model systems to study what happens as cells and organisms age. In particular, we are very interested in the role of a protein called WRN that helps to stop cells ageing prematurely. We are studying the effect of mutating this gene in worms and flies, to explain why people with a mutation in WRN show many of the signs of normal ageing. We also have a long term project to age human cells in the lab and measure biochemical changes with age.

My Typical Day:

I try to fit in experiments around teaching, admin, meetings, seminars and reading lots of scientific papers.

Read more

I run my own experiments looking at human cell ageing and collaborate with colleagues on fly and worm ageing. I also teach undergraduate students and supervise graduates. and research staff. There is no such thing as a typical day – they are all very different from each other but very busy and good fun.
My Interview

My favourite CHRISTMAS LECTURE memory is:

Alison cartwheeling at the start of lecture 3

How would you describe yourself in 3 words?

Fascinated by life

What or who inspired you to follow your career?

Marie Curie – I read about her when I was 10 and wanted to be like her.

Were you ever in trouble at school?

I accidentally left footprints on the ceiling once….

What is the most fun thing you've done?

I spent a summer exploding things for British Gas – it was amazing
My profile link:
https://ias.im/u.40486
---
---
---